Bespoke Roman Blinds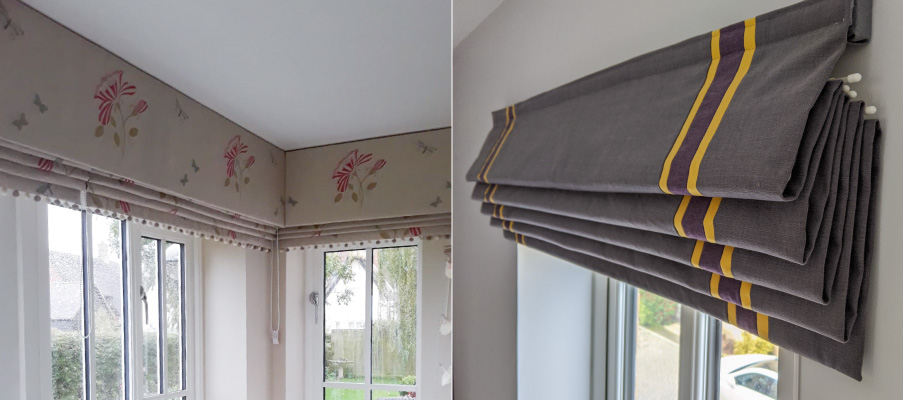 Certain windows lend themselves to blinds rather than curtains and I love making Roman blinds. They go particularly well in kitchens, hallways and offices – or anywhere that space is at a premium. Sometimes a window would suit both a blind – for day to day use – and dress curtains to complete the look.
If you wanted to add a different twist, we can find trimmings to personalise any blinds and soft furnishings. I have a wide range of trimmings and accessories available for you to choose from or I'm happy to search for more.
I have a variety of linings to suit each project. You may have draughty windows that need thermal linings, or perhaps in a bedroom, blackout linings are often a good idea.
I have a large number of fabric books in my studio from companies including Blendworth, Ashley Wilde, Kai, Kobe and Poter and Stone. Of course I am also happy to work with fabric you may already have sourced.
All of my Roman blinds are hand stitched, lined and interlined as standard, made to measure and fitted to comply with child safety legislation.
Accessories such as cushions, throws and lampshades in contrasting or complementing styles can complete a room and is also something else I can provide.
New from old
We're more conscious than ever about not throwing things away and you can change the look of a window by adapting what you already have. Or perhaps you could even make use of the curtain material to create a blind or cushions.